I'm here today with another follow up organizing post. I'm going to show you our craft area organization using printable labels. This was a quick and easy project that makes craft clean up just a little bit easier.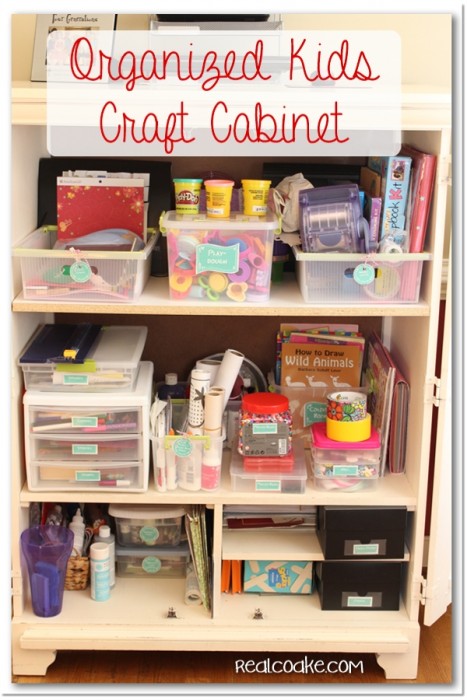 In case you didn't already know this or figure it out…I love organizing! I love figuring systems out that work to keep things neat and easy to find. During the summer, I do a lot of organizing. I guess because I have more time the summer works well. It seems that things get neglected during the busyness of the school year. In the summer I work to revamp things and figure out something new that might work a little better for the following year.
Last summer, we
reorganized our office/craft room
. I'm super pleased to report that it still looks nearly the same and that this reorganization has really made this area workable and not a total disaster. Make me so happy!
Just like I did 
labeling the playroom with chalkboard labels
, it was time to label the craft area. I had put it off, just like the playroom, because I thought it was going to be a pain. In reality, it was really easy and pretty quick. Now everyone knows where to put everything away….no excuses!
Let me show you around a little bit and show you our new labels. If you want the full details on this cabinet organization, you can see that in the original post: Organizing Ideas: Crafts & Office.

Above, you see the top shelf of my former TV armoire turned craft cabinet. The top picture shows the front view. I have one box on either side that is for each of my girls. That way they have a place to store their craft supplies that are special and they don't want to share. In the center is our bin of play dough supplies.
In the bottom picture, you can see behind the play dough bin, I have a few of my large scrapbook supplies that needed a home.
I just went back and looked through that original post…I see what a great impact these labels make. I got my printable labels free from the World Label Blog. They offer tons of different varieties of printable labels. The labels I used were the
Kitchen, Spice Jar & Pantry labels
. I liked them because they had three sizes, so I could match them to the size of the container I was labeling.
I printed my labels on cardstock and
laminated

them for additional durability.

The middle shelf contains a lot of supplies. It has crayons, markers, stencils, paper, glue, Perler beads, duct tape, stickers and more.

This bin sits to the right of the three drawer bin. It holds glue, rolls of paper, tape, and Perler bead forms.

Our three drawers hold our crayons (and markers/colored pencils), stencils, and stamps. On top of that sits a box of stickers and a paper cutter.

I did something drastic this year. I threw away 95% of the crayons and few markers that were in our drawer. We started new. It was just a mass of broken crayons, not working markers and a big mess. My girls are getting older. They wanted markers and colored pencils more than crayons. Though they still wanted some crayons.
I spotted this great
Crayola crayon tin

at Target. We bought a new box of 24 crayons. We kept our construction paper and glitter crayons and each girl got to pick out one of the fun boxes of crayons. They have some really cute packs with special colors and such for only $1 each. Now all the crayons fit in the tin. It will make them easy to find and keep them well organized. We added a new package of 24 markers and 24 colored pencils. Hopefully this will be a great change and make these type of art projects a bit more fun.

Behind the paper, Perler beads and Duct tape, we store our paints with the brushes in a cup that can be used for water and our coloring books. To the side are some large sticker books and an accordion file filled with construction paper.

The bottom shelf mostly holds my things. I have memorabilia and scrapbook supplies on the right side and a few of my craft supplies on the left side.

I clearly labeled these as Mommy's. There will be no confusion that they need to ask me first before using these. Apparently I needed to label the black boxes on the other side as Mommy's as well because they noticed it didn't say Mommy's and thought they could use my scrapbook papers. 🙁

Well, there you have it. My newly labeled and well organized craft cabinet. I am now a fan of cute labels. They really are easy to make and I think they make an impact in the space. They also help certain members of my family know where things should be put away.
What do you think? Labels or no labels?
More Organizing Fun for You: