Today, I'm really excited to share with you my fantastic sponsor for the month of September. 
I really appreciate my sponsors. Their support allows me to do what I do and bring you this blog that you have come to enjoy. So please share the love by learning about my 'Real' amazing sponsors. There may even be a freebie involved in this post if you read it carefully, wink, wink! 😉
Gabysoft – Whack-A-Fact/Whacky Math – Math Facts Game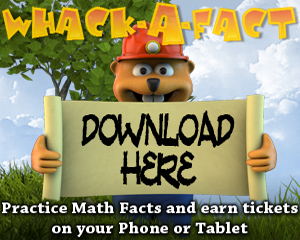 WhackAFact is a math facts game that helps students review their addition, subtraction, multiplication, and division skills. Based on familiar arcade games, WhackAFact is a touch screen game that makes math practice fun and challenging.
Players choose the family of math facts to practice and then progress through each level, earning bronze, silver, and gold medals. When new progress is made, tickets spew from the screen in a realistic and rewarding manner, while on-screen prizes await purchase. Correct answers are revealed to provide feedback. Players can challenge each other or simply reward themselves.
Parents and teachers can review player's scoreboards to quickly ascertain which math skills have been attained and which need more practice.
The folks at Gabysoft, gave us a copy of Whack-A-Fact to play with for the last month. My girls have had fun playing the game. They have enjoyed the fact that this game is like an arcade game and they earn tickets and get to pick their prizes. It has been a great way to get additional practice on addition for Pumpkin and Division and Multiplication for Snowflake. I like that the app practices all the facts. Truth be told, I have had fun playing the game as well but shhh, please don't tell, OK?
Our friends at GabySoft are offering you a fun deal this month.  The first three iOS users and the first three Android users to email them at realthing@GabySoft.com will receive free copies of their math facts practice app WhackyMath / WhackAFact.  This app works on both smart phones and tablets and is a great way for kids to practice their addition, subtraction, multiplication, and division facts, both at home and on the go.  Kids win visual tickets and prizes when they practice and learn while parents and teachers can see and keep track of their progress.
I would love to feature your product on my blog as well as in my sponsor post  next month. If you are interested in working together, visit my advertising page to learn more or you can contact me directly by emailing me using the link in my sidebar (the envelope under 'Contact Me').
Blogs I've linked up with:
© 2011-2012 The Real Thing with the Coake Family.  ALL RIGHTS RESERVED.