I've been sewing for our American Girl dolls again! Today I've got more free doll patterns for you. I've had this one on my list to make for quite some time. I decided it would be perfect to make for our dolls just before Easter. That way they can use their reversible tote bags as Easter bags/baskets when they go to all those egg hunts and such. 😉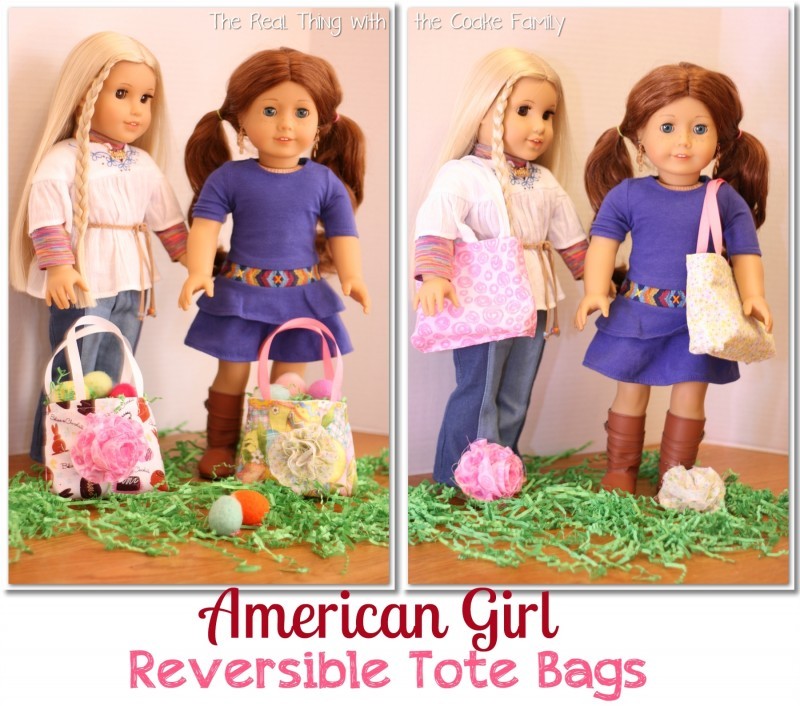 Aren't they adorable? I just love how these reversible tote bags turned out. So cute and with our Easter fabrics, they are the perfect bag for using for an American Girl doll Easter egg hunt.
The pattern is easy to make and straightforward to follow. I made one change that made this little project take a bit longer, but it is what my girls wanted.
My girls wanted the flower on their tote bag to be removable so that when the bag was being used with the flower on the inside, they could still fit things inside their bag. The pattern calls for hot gluing the flower to the front of the bag. it would have been lots faster and easier, but what I did worked as well.
If you want your flower to be removable, start by following the patterns instructions for making the ruffle for the flower. Rather than hot gluing the flower, follow these steps below.

Start by gathering a small section of the ruffle you sewed and gathered.
After the initial gather and a few turns around, for me, it was easier to turn the flower over and gently lay the fabric around the circle.
Winding it up somewhat loosely that way and making sure to line the bottom of the ruffle as you go.
Done with the winding.
Now you need to sew the flower together and add Velcro to make it hold together and be removable.

After completing three of these flowers, here is what I found that worked for me.
Using a needle and thread, pick a location to start. Push your needle all the way through the flower.
I found it easiest to pick a direction and continuing going in that direction, sewing the flower to hold together. So, each time I pulled my needle out, I moved it to the right and went back through the flower and going to the right again. Until, I had gone completely around the flower securing it.
Next up is adding a small piece of Velcro  Fist, sew it on going around the edge, pushing your needle through the Velcro and flower and back up again. Next, to completely secure the Velcro and to try to make the gathered portion look more neat, use a whip stitch going around the edge of the Velcro and gathering extra fabric up as you go. So that, in the end, it is almost all tucked up under the Velcro.
Finished and fluffed flower.
Make sure to add the opposite piece of Velcro to the center piece of your outer fabric before proceeding with the rest of the pattern. I did this on the machine because I don't like hand sewing. Blech…and after three flowers I was about to go batty!

I love how the flowers turned out…so you get to look at a few pictures of them. 🙂

I caught Julie and Saige taking a little break while they were out an egg hunt with their new bags.

Snowflake picked out this Easter fabric. The flower and inside fabric were from a fat quarter, which was more than enough fabric for this project.

Pumpkin picked out this Easter fabric. Once again the flower and inside fabric were from a fat quarter. I did have to sew together two strips of fabric the correct width in order to make the flower because it calls for a strip 44″ long. A fat quarter is not that wide. Easy fix, but just giving you the info. in case you try using a fat quarter for this project as well.

Gorgeous Easter bag with flower for our American Girl dolls.

The flower easily comes off and goes on. On the fabric Snowflake picked, the Velcro piece on the bag doesn't  stand out too much, so it could be used without the flower any time.

When the girls were done with their egg hunt, they were off for a day of shopping. They needed their tote bags to carry the goodies they bought.

The other side of the tote bags.

Now some fun news. I made three of these bags. I made one for Snowflake, one for Pumpkin and one for one of you! I am giving away the bag pictured above. It will be filled with the paper grass and hopefully a couple of eggs for you, too. Though our cat has been eating and destroying the other eggs…so if he has eaten them before the giveaway is over, they won't be included. Boo!
Below you will see the Rafflecopter widget. It is also on my link party post (
Real Family Fun #4
), if you are a blogger, you can earn extra entries by linking up a post or two over there.
Tune back in on Wednesday for another AG sewing project. I have another giveaway this week for that post as well! I am just full of things to giveaway to you all!
More American Girl Doll Fun: