I've got another update on the progress in my living room for you today. I've made some changes and I'm guessing you enjoy seeing them since so many of you have viewed them and commented in the past. I'm also hoping that maybe they give you living room ideas for your home as well.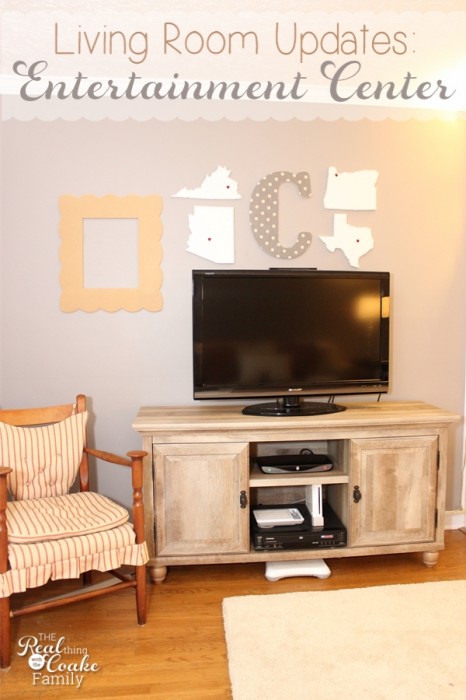 I feel the need to first say that I am not a designer or decorator. I did think about going back to school at one point to become an interior designer, but never did. I just enjoy making my home pretty and I enjoy changing things up. My living room, well really my whole house, needs a big freshen up and to be updated to what I think of as a more modern style. We already took down the chair rail, painted the moldings, painted the fireplace, and painted the walls. Huge improvements!
If you have read other posts about my living room, then you may notice that I've changed up the entertainment center. Let me show you where it all began and the great progress I've made so far.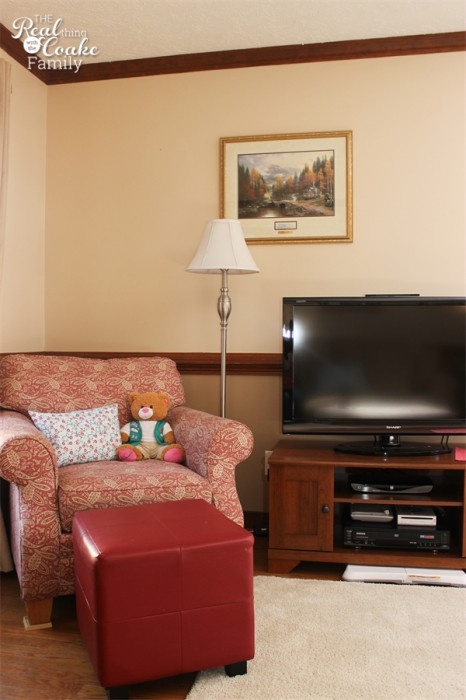 This is the same wall you saw in the first picture. This is going back to before we started making any changes. You can see the chair rail and the color of all the moldings as well as the walls and my old artwork.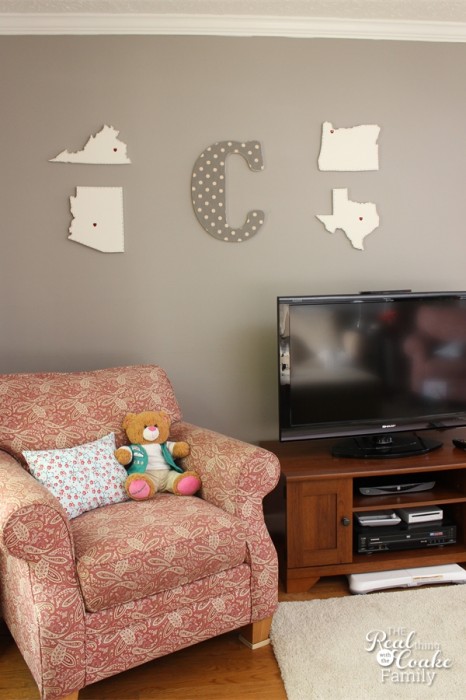 First round of changes. The chair rail is gone and the moldings and walls have been painted as well. You can also see the DIY wall art that I made. I love it! The thing is that I have a friend (who blogs at My Extraordinary Ordinary Life)who has loads of experience in interior design. She saw the pictures that I posted about my living room makeover and gave me some excellent advice. I took her up on the advice and I'm LOVING the results!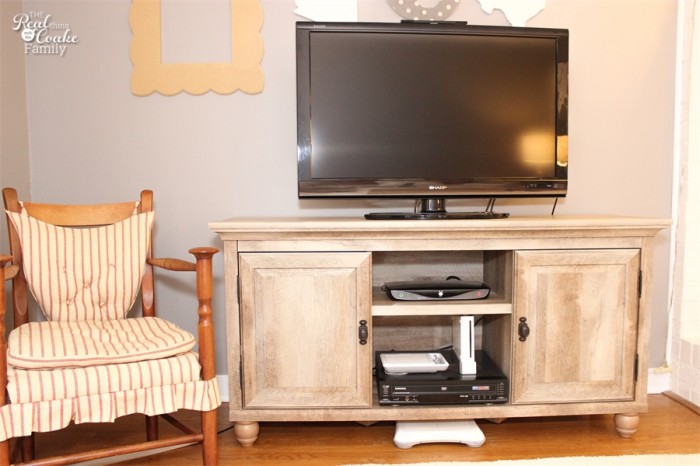 First up was to get a new entertainment center. She suggested that a higher and larger console would help balance the room. I have two bookcases on the other side of the room.
The entertainment center we had, we bought when my husband was unemployed about 4 years ago. We bought the only super cheap one I could find that I sort of liked. We promised we would only have it for 1 year. MAX. So, 4 years later, I was very happy to see that ugly thing go!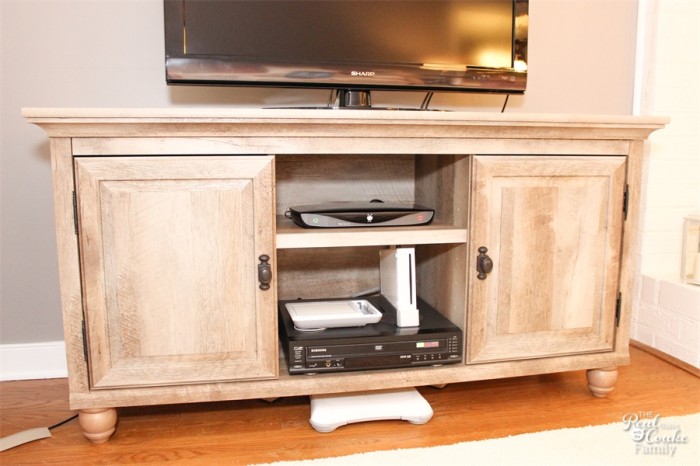 Now one of my daughters is mortified that I'm going to tell you this, but we were actually at Wal-Mart a week or two ago. We NEVER shop at Wal-Mart. I have issues with quite a few of their practices, so I make a choice not to shop there. I had been unable to find wide mouth mason jars anywhere else, so we went to Wal-Mart.
I'm totally digging the weathered wood look right now and had been really wanting to add that element into my house and living room. Well, wouldn't you know that Wal-Mart had a nice entertainment center from Better Homes & Gardens that fit exactly what I wanted and my budget. So, I bought it. And my daughter flipped out. I guess I've done too good of a job educating her about the less than stellar practices of Wal-Mart. So, anywho…we now have this entertainment center.
Once Mr. T and I got it put together and situated in the room, it instantly made a difference. It is larger and that makes the room feel more grown up and just better.
I love the weathered wood look. It doesn't photograph amazingly well, but I think you can see some of the wood grain in the picture.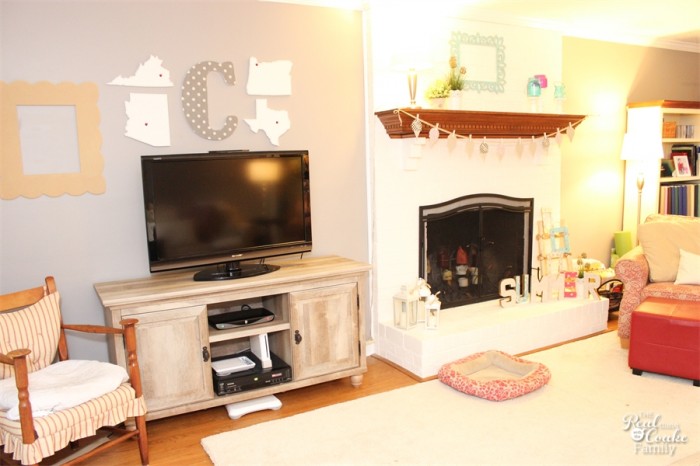 It is hard to get a full shot of this wall, but you can see the bookcases on the other side of the room. The larger console and artwork above offset and balance the heaviness at the other end of the room from the bookcases. They are still the wrong color for the room now, but that is another task for another day.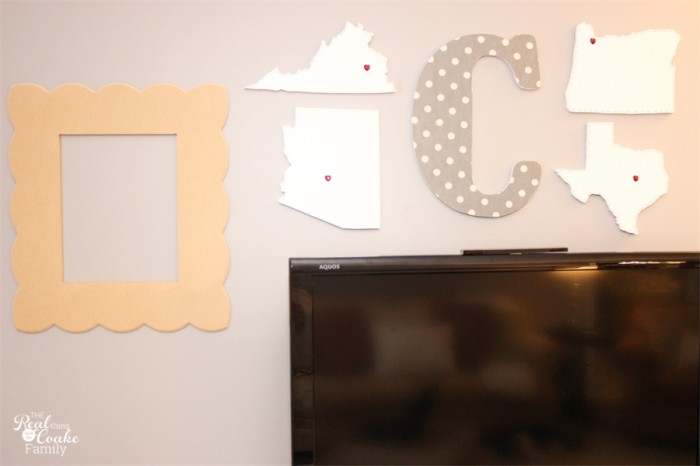 The other suggestion that Lisa had for my wall was to group the wall art closer together. She said it is a little designer trick that lots of people miss. I added a frame to the grouping to add a little more to this wall. I still need to paint the frame and add some art or photograph.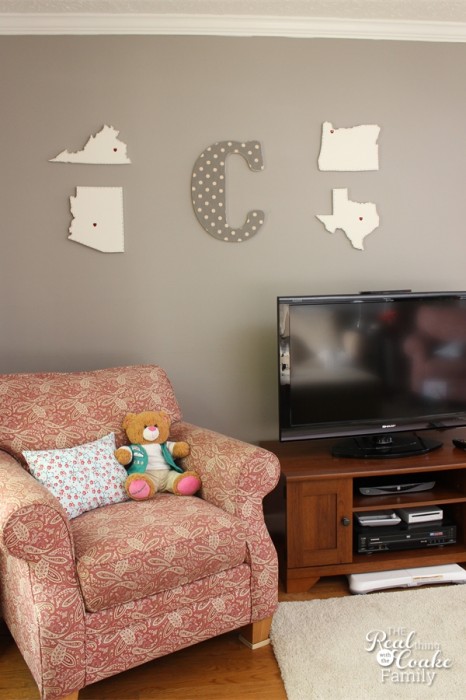 If you look at the way I originally grouped the wall art to what I have below, there is a big difference. I much prefer the closer cluster.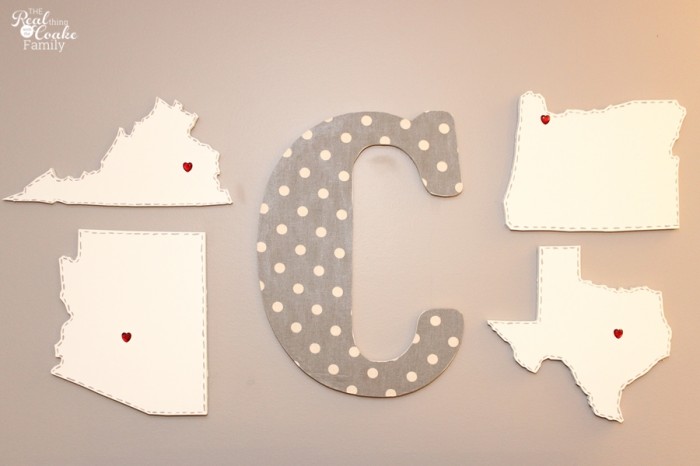 See how the wall art is clustered it much more closely together.
It really does make a difference. I feel like it gives the artwork much more presence and weight…at least in my non-professional designer opinion. 😉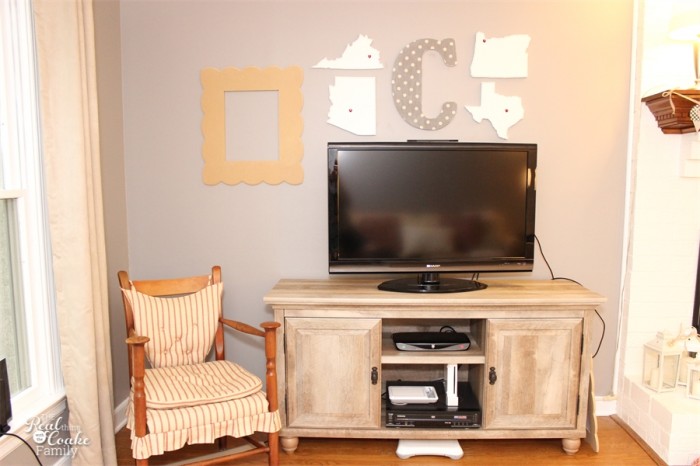 Oh, you may have noticed that I swapped out chairs in this corner. The larger club chair wouldn't fit in this corner anymore. I went with my Grandma's chair. I moved the other chair to the other side of the room, which means my end table wouldn't fit….so more changes will be needed.
As far as this area I still need to:
Paint frame(and those for the wall above the couch)
Fill frame
Re-finish chair
Re-cover chair (I already have the perfect fabric…but I need ideas of how to re-cover it)
So what do you think of the changes? Did you know about the trick of cluster wall art/photos closer together?
More Great Posts for You: